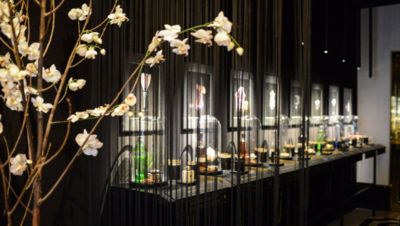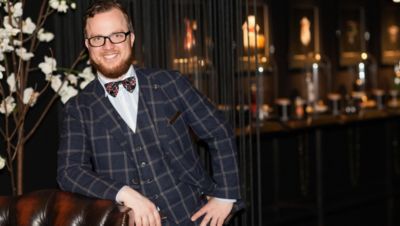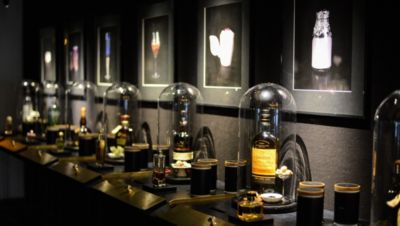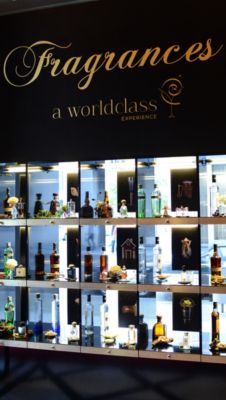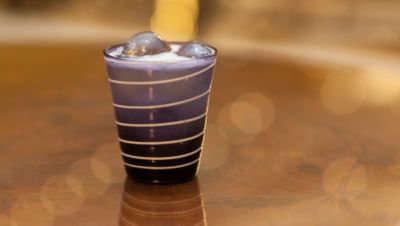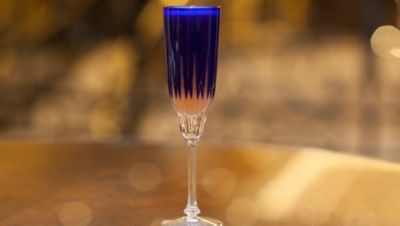 Arnd Heißen has perfected the art of cocktail creation: the fragrance connoisseur and bar manager is considered an expert in "scented cocktail mixing."
Heißen dazzles bar guests at the Berlin luxury hotel The Ritz-Carlton with aromatic drinks based on hand-picked fragrances of renowned perfume brands. Since 2011, he has been successfully managing the hotel bar "The Curtain Club" and delighting guests with new ideas, recipes and flavors.
With the opening of "Fragrances" a world first enters the stage: an exclusive bar solely devoted to scented cocktail mixing, a stimulating experience for all senses. He tells us all about it here:
You create individual, unconventional cocktails based on the specific fragrances of various perfumes. How did you get this idea?
When I recommend cocktails that guests don't know, they often ask me to describe how they taste. But my description usually didn't capture it sufficiently. To better convey the taste of the drinks, I took a look at some perfume books. This made me realize that perfumes consist of several individual aromas and spirits, some of which are also used for cocktails. I tried to replicate a perfume in the form of a drink – guests then had a better idea of how the cocktail was going to taste. And this was a success.
What approach do you take when creating a cocktail? Can you tell us how you go about researching fragrances?
I've gotten into the habit of smelling everything I come across. I now have the scents of so many spirits and drinks in my head, which pop up when I smell certain fragrances. For example, when I smell coffee then I immediately think of Ron Zacapa rum. With citrus aromas I think of gin; and when I smell oak moss or leather, that smoky note reminds me of Don Julio Anejo tequila.
What special scents were you able to detect with BOSS Bottled and BOSS MA VIE Pour Femme?
The base scent of BOSS Bottled is warm and calming. For this, I took a combination of cedarwood and vetiver, a sweet grass from the Asian tropics. I created the cool freshness of the fragrance by adding Japanese mint; and the vodka, combined with lemon juice, contributes the elegant citrus note of the fragrance. This is all rounded off with Japanese plum liqueur that lends the cocktail its light, exotic touch.
The perfume BOSS MA VIE Pour Femme has a light leather note – in the cocktail this is underscored with Don Julio Reposado tequila and refined with warm notes of cedarwood and flowery rosewater. On my first try, the drink wasn't fruity enough. So I added a shot of cranberry nectar. The result was perfect, not only in terms of taste but also appearance; the cocktail got a nice, light pink color, like the perfume itself. A crown of egg-white foam gives the drink its elegance.
Which cocktails would you recommend for which guests?
I'd recommend the BOSS Bottled cocktail to a modern, stylishly dressed man in his mid-twenties. A cosmopolite who wants to drink something "masculine." \r\n\r\nThe BOSS MA VIE Pour Femme drink is dedicated to elegant women who exude independence despite their feminine look. I imagine a glamorous lady, very natural, with character – one who's up for adventure, even when wearing high heels.
BOSS fragrances for mixing
BOSS Bottled
40ml Ketel One Citroen
10ml Plum Shochu Akashi Tai
5ml Stählemühle Japanese mint spirit
30ml fresh lemon juice
20ml syrup with cedar, vetiver & vanilla
Shake on ice - double strain onto ice in a tumbler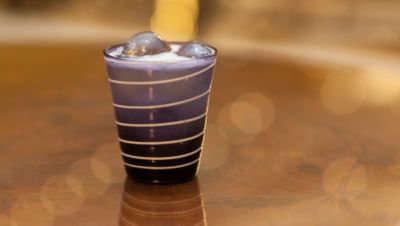 BOSS MA VIE Pour Femme
40ml Don Julio Reposado tequila
30ml fresh lemon juice
15ml jasmine syrup
5ml cedarwood syrup
20ml cranberry nectar
10 drops of rose water
1 egg white
Shake on ice - double strain into a cocktail glass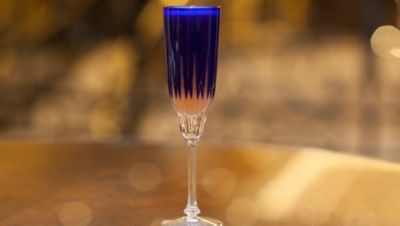 DISCOVER THE BOSS FRAGRANCES