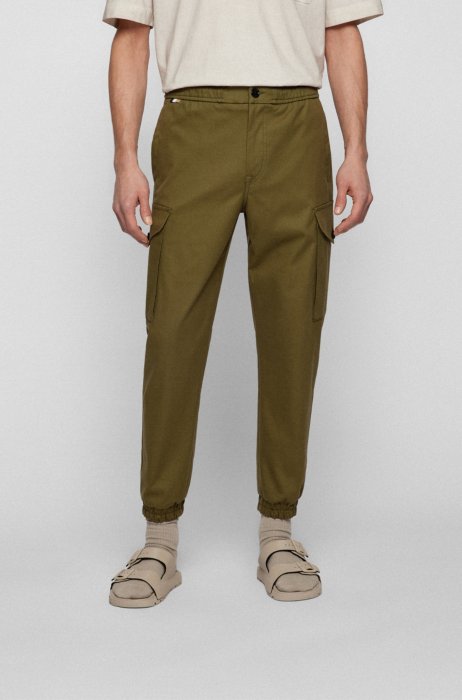 Cotton-blend cargo trousers with signature trims
Are you in the USA? Visit our online shop in the USA.

Shop US
Style Paloc_CH - 50468730
Cuffed cargo trousers by BOSS Menswear. Featuring signature trims and cargo pockets for casual appeal, these regular-rise trousers are part of our responsible style collection. For our RESPONSIBLE styles, we ensure that at least 60% or more sustainable raw materials are used. This item is part of our Less Water initiative, created using less water through specially selected raw materials and dyes. Due to continuous training of farmers, improved irrigation methods and better soil quality, organic cotton achieves a lower water consumption than traditional farming methods. Organic cotton is only grown with naturally occurring substances and no genetically modified seeds. Organic farming encourages the use of natural measures, such as crop rotation and composting, to control pests and diseases rather than relying on chemicals. This garment contains a portion of SeaCell™ fibres, produced exclusively from sustainable raw wood and seaweed. The materials are harvested using methods that save energy and resources. The patented SeaCell™ production process is an innovative and eco-friendly method. Production takes place in a closed loop with no chemicals released as waste. Thanks to a closed solvent circuit, all process liquids and water is recycled and re-used. For all our products that are part of the Less Water initiative, we selected production facilities and dyeing mills with a high-quality water recycling system in place.
Regular rise
Button and zip closure
Drawstring
Cuffed leg
Pockets bottom front: Side zip pocket
73% Cotton, 24% Lyocell, 3% Elastane
careinstructioncode.000480
The model is a size 48 and is 187 cm tall with a, 93 cm chest, 74 cm waist and 92 cm hips.