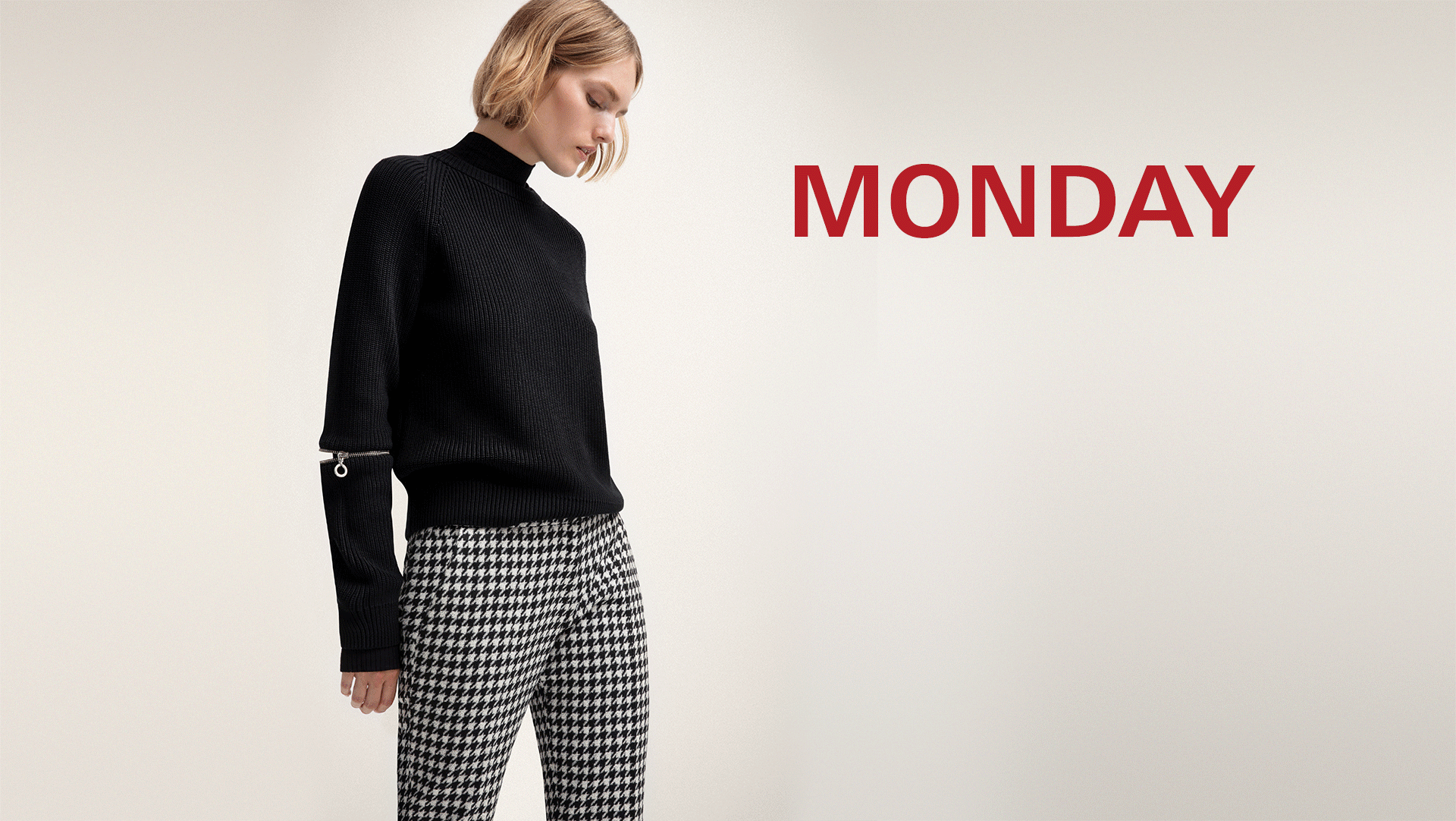 How we're dressing for the office
HUGO stands for creativity in all its forms: challenging convention, celebrating possibility and championing individuality, even at the office. We serve up serious business style with a twist, perfect for any hard-working creative in need of a stellar working wardrobe. Whether your Monday is full of meetings, or you need a dressed-down option for casual Friday, HUGO will take your 9-to-5 look from ordinary to extraordinary.
Monday never looked better
After a Sunday of binge-watching Netflix and doing little else, Mondays require a little extra effort. But this doesn't always have to be the case. There's one quick way to fight off the Monday blues: opt for an office outfit that's as comfortable as it is chic. Take these houndstooth separates, made from stretch cotton, and wear with a simple knitwear piece for an easy start to the week. For an extra Monday pick-me-up, add a statement accessory – an of-the-moment belt bag or a pair of chunky boots.
On Tuesday, we wear print
Tuesday is here, and with it comes a packed schedule. Running from one location to the next requires an easy-wear outfit that doesn't compromise style. Take this printed blouse and dress, versatile enough to be worn whether you're heading out to a client meeting or simply picking up coffee (because you'll need several cups to make it through the day in one piece).
Wednesday means business
It's Wednesday, which means it's time to switch it up a gear. There's a crucial client meeting on the agenda, which can only mean one thing - pantsuits at the ready. For Fall/Winter, this professional staple can be worn two ways, paired with a statement T-shirt or a sophisticated striped blouse. Wear with understated accessories and let your ideas do the talking.
Thirsty Thursday
This season offers a fresh dose of 9-to-9 inspiration. Forget traditional navy, bright blue is having a resurgence. Take your work wardrobe out-of-office with these feminine creations from the new collection. The fastest way to make sure your outfit is after-work appropriate? Throw on a pair of heels, like these sock boots made from soft leather.
Casual cool Friday
Hell for leather into the weekend. Saturday is in sight, and there's no way better to celebrate than casual Friday at the office. Leather never goes out of style, so channel this timeless trend and combine a chunky knit with a sleek mini skirt or a cropped biker jacket and washed jeans. Finish both looks off with simple accessories.