How to wear a scarf
Whether to protect from falling temperatures or add detail to an outfit, scarves feature in every man's wardrobe. But how do you tie a scarf properly around the neck? Some knots are too casual, while others too formal for every occasion.
Discover the BOSS guide to scarf tying for every occasion and outfit. These wraps and knots will work for every type of scarf, from thick woollen ones to lightweight cashmere designs.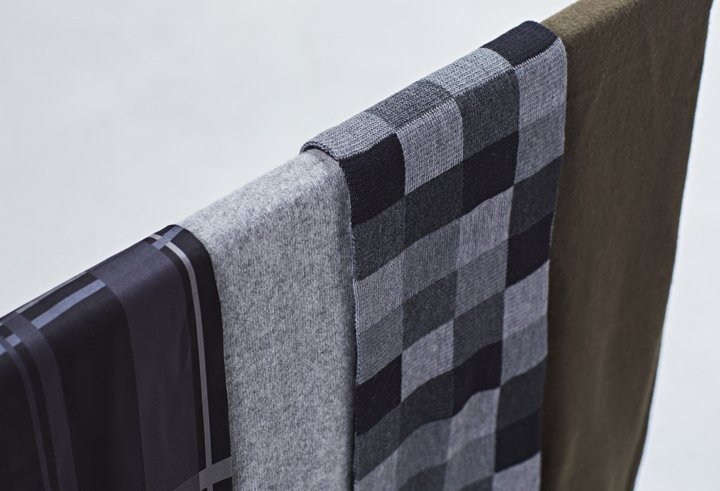 Business scarves
When wearing a suit, it's important to keep the emphasis on the clean lines and sharp cut of your tailoring in order to make the right impression. In this case, a simple, elegant knot for your scarf will do. Fold it in half lengthways, drape it around your neck and pass the ends through the loop.
Adjust the knot for comfort, pulling it tight to protect against the wind. However you wear it, this method of tying your scarf is sure to stay smart and sartorial. It will also layer well under the lapels of a tailored coat.
Smart-casual scarves
Not all occasions that require a sophisticated look need tailoring. When your outfit is more relaxed but you need to keep a polished appearance, drape your scarf over the back of your neck approximately one-third of the way along. Then take the other end and throw it over your opposite shoulder.
This way of wearing a scarf is ideal for more casual occasions that still need some flair. It will work just as well over a shirt as a sweater or blazer, depending on your look.
Casual scarves
When creating a casual look, the throw-on-and-go nature of the outfit is part of its appeal. With this in mind, your scarf should be equally laid-back. Simply wrap your scarf of choice once around the neck and pull on the ends to adjust.
This method works well with scarves of all sizes, but will feel particularly warming with a large, chunky design. Wrap it over your coat or jacket for fool-proof protection from the elements.
Evening scarves
When wearing a scarf as part of a tuxedo, it is more important than ever to maintain the same sartorial standards. In this case, it is best to choose a scarf that's been designed specifically for the job. The material should be fine, such as silk or cashmere, and a similar colour to the tailoring. Subtle patterns such as polka dots or stripes are a good way to bring detail to the look.