Mats Hummels on BOSS Made for Me
When choosing a suit, every detail matters – just ask professional footballer Mats Hummels. For a man who spends most of his time on the pitch, Mats certainly knows how to look sharp off it. The new face of BOSS Made for Me, he speaks exclusively to us about what he looks for in a suit, his own personal style and how dressing smart makes him feel.

How does it feel to be the face of BOSS Made for Me?

I've always liked BOSS and the clothes they make, so working with them just seems natural. Plus I get a customised suit out of it. What's not to like?

What's different about a BOSS Made for Me suit? How does it compare to others you own?

It's very rare that you get the opportunity to be involved in designing the clothes you wear. Sometimes when you choose a suit, there is an element of compromise. You like the fabric but you don't like the buttons, or it's the perfect colour but the fit is slightly off. With BOSS Made for Me, you don't have to settle for anything less than the perfect suit.

Can you explain the customisation process?

I had my appointment at the new flagship store in Munich, so I went along on the day and a specially trained member of staff guided me through the various options available. It's a four-stage process; first, you choose your fit, then the fabric you like best, the lining and lastly the buttons. Then approximately three weeks later you go can go and try the final thing on.

What was the best part?

Definitely the final stage - the stitching. Once you have decided on how the suit will look, you can add one last finishing touch, either your name, initials or a memorable date on the inside label. I chose my initials and the number five – the number I wear on my jersey.

How would you describe your style in general?

I wear a lot of sportswear – I mean; it's part of my job. But I like to look smart as well. That's why it was important to me to create a suit that I could feel like myself in.

What, in your opinion, is the secret to the perfect suit?

A great suit should be the perfect mix of comfort and style.

When do you plan to wear your BOSS Made for Me suit?

There's always a wedding or occasion coming up, but I specifically chose a suit style that would work with a shirt and sneakers as well. I picked light grey, which is such a versatile colour, I can wear it to just about anything.

How important is it in your daily life to look and feel your best?

I think it's important to present yourself in a good light so that others see you the same way. It's not all about the clothes that you wear – but it helps.
"With BOSS Made for Me, you don't have to settle for anything less than the perfect suit."
Mats Hummels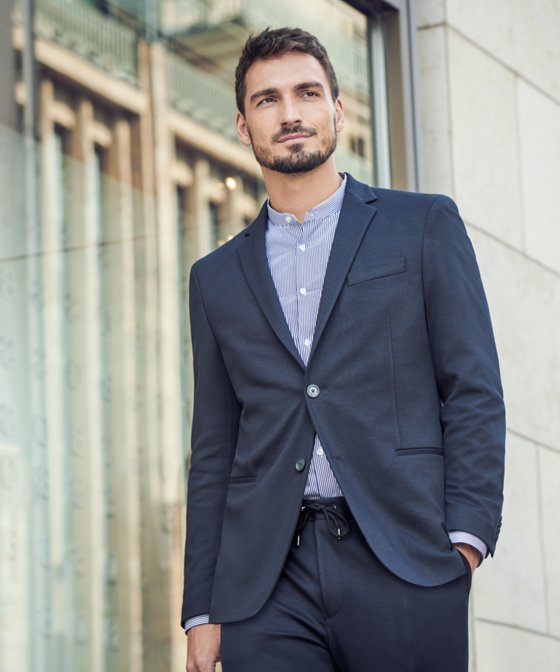 BOSS Made for Me
Personalise and customise every detail of your next suit with our BOSS Made for Me service, available at selected stores. Create something special for a big occasion, or add a personal touch to your office attire with this exclusive service.