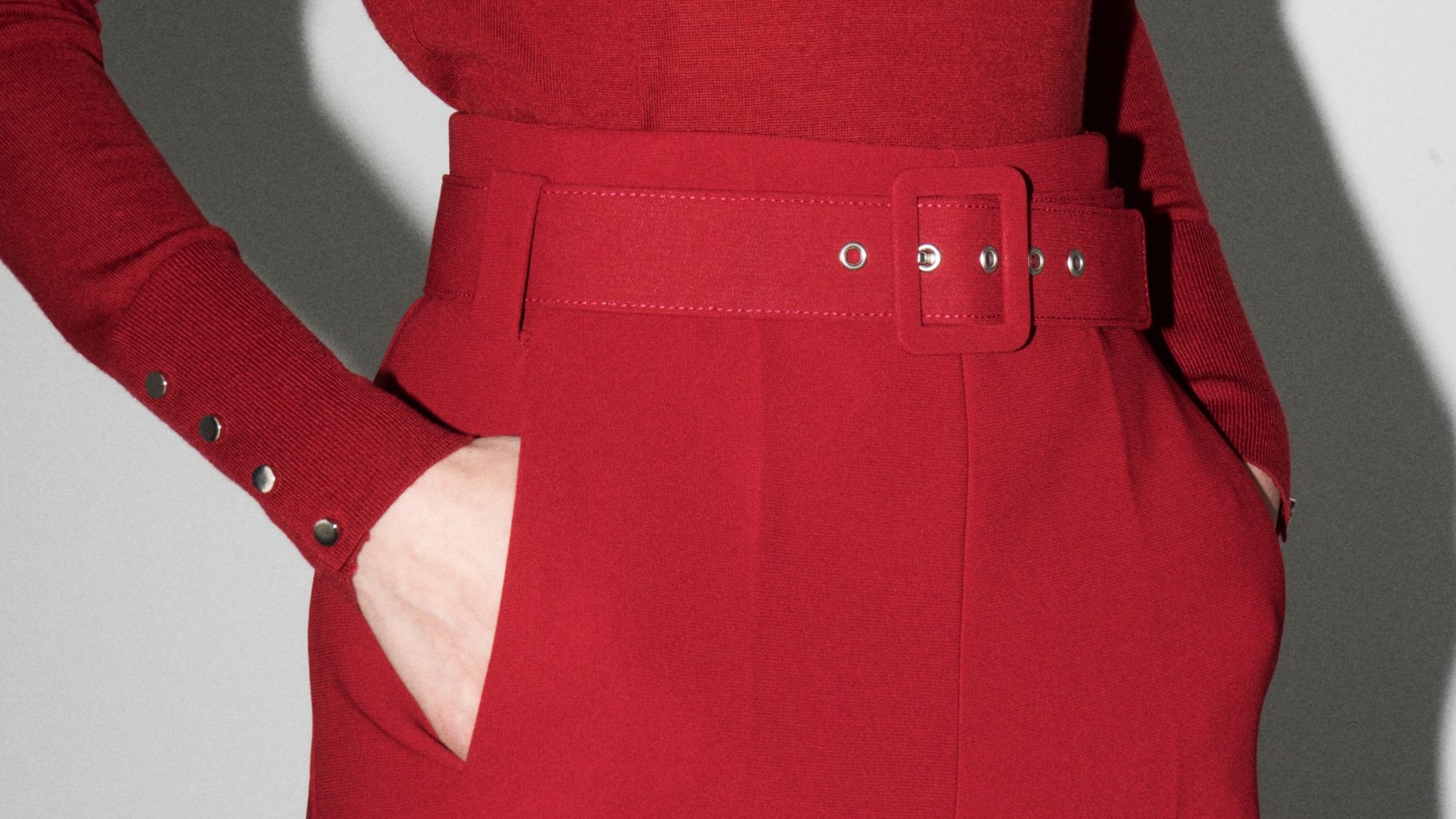 How to look chic in monochrome
Stepping out wearing one color head-to-toe is a bold statement: one that can give you the confidence to dare to do what you want. A simple outfit is more dynamic when every element is a shade of the same color, so start with a favorite piece, such as a jacket or skirt, and work around it. Use texture to bring contrast to your look, and up the impact with layers or a high neckline. This trend also allows you to create the perfect canvas to show off your favorite accessories. Read on to find out how to nail color-block dressing with BOSS Womenswear.
Rock it in red
Wearing the siren shade shows you mean business, and showcasing it from head to toe makes you look fearless. Use contrasting textures – cosy knits mixed with lustrous fabrics – and add a handbag in a tonal shade. Use pop-color shoes to set off the fiery style, and subtle accents like a metallic eyelet belt to accentuate your waist. Rich red flatters every skin tone, so wear it with pride for ultimate power-dressing.
Say yes to yellow
Dare yourself to shine in sunny yellow, combining feminine pleats with a flat-knit sweater for textural contrast. Exuding positive vibes, this impactful color is easily accessorised with a distinctive scarf - a bold pattern with a flash of the core color will elongate your silhouette. When wearing yellow, try warmer, golden tones for one-color wonder during the day, or add a hint of neon for a night out.
Nail it in neutrals
If color-block dressing is out of your comfort zone, one of the more understated ways to master it is with tailoring. Opt for a charcoal suit and slip a tonal top underneath to make a simple statement, adding accessories like a metallic watch and black leather shoes to draw the eye to the buttons. Offering the original professional look, a charcoal-grey suit is the perfect choice when you mean business.
Spring into green
From forest to camouflage, khaki to mint, green is naturally stylish. A jewel-colored hue is easy to layer, while a bright shade will make you stand out from the crowd. Combine the two for a directional look, by pairing an emerald-colored trouser suit with a fresh green turtleneck to accentuate your height. Punctuate it with heeled boots in fresh white for a nod to the sports-luxe trend, and finish the look with a statement bag in a clashing tone.