Uniquely BOSS: What makes our ties stand out
You've got your suit, your freshly pressed shirt, and your carefully polished leather shoes. What do you need to complete a sharp tailored look? A tie, of course. Quality, design and craftsmanship are a given when it comes to BOSS ties, which are made from fine Italian fabrics - almost always pure silk, although we do also make knitted wool ties - and individually finished by hand. We believe that only the eye of an experienced craftsman can guarantee the finish that BOSS demands. Whatever style you are looking for, from an elegant patterned silk tie to a modern square-bladed skinny design, you can count on BOSS to deliver the very best, every time.
Did you know that all BOSS ties are made in Italy?
How to tie your tie
There are just two knots that should be mastered to ensure that your tie always looks effortlessly sophisticated, no matter what shirt or tailoring you team it with. Follow our guide to find out how to tie a tie in either the four-in-hand or half-windsor knot.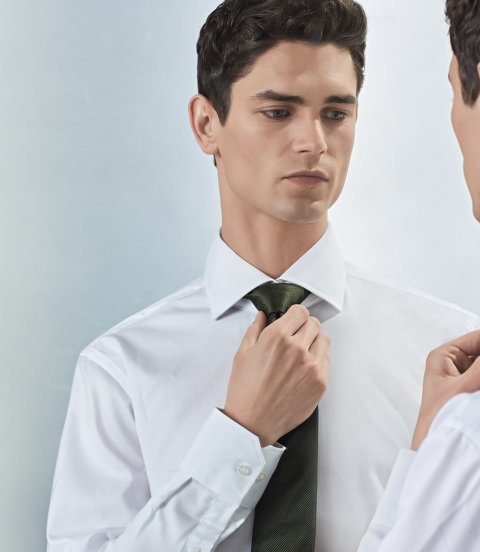 Craftmanship
In the Italian production centers where BOSS ties are made, environmentally friendly processes are always followed. The material is cut on the bias to ensure that it drapes in just the right way once knotted, while the interlining contains wool and cotton to provide slight volume and to keep the correct shape. Hand-finished stitching ensures that every BOSS tie meets rigorous quality standards to create an impeccable formal look.